South Carolina Option 3 Homeschool Law:
Be the parent or Legal Guardian
Have a GED, high school diploma or higher.
Join an Option 3 Homeschool association like United Community of Homeschoolers Unlimited (aka UCHU).
Students must be schooled in: Math, Science, Social Studies, Reading and Writing. 7th-12th grade students have to have Literatire and Composition (which replaces the reading and writing) (You do not have to complete these subjects daily.)
Parent/Legal Guardian must maintain record keeping:
a. Daily journal of what the student did or activities involved in.
b. Semi-annual progress report
c. Maintain a portfolio (showing some of student's work)
d. Maintain attendance. (180 days is the goal. Any days completed in oublic school thus far does count towards the 180 required days)
As the home educator you have the freedom to choose which resources you will use to educate your child.
You do not have to report to the local school or school board.
If your chikd has an IEP when you begin homeschooling you do not have to follow the public school genrrated IEP. You can create a 501 plan for YOUR student.
There are no end of the year required testing.
You can add other subjects into their studies.
No required number of hours a day to school.
No required days of the week you must school. You have freedom to create your schedule.
24/7 access to me, the director and owner of United Community of Homeschoolers Unlimited.
Monthly newsletters.
Monthly virtual homeschool mastermind meetings.
Discord group access.
Yearly Individualized Homeschool Plan meetings.
Transcript and Report card completions.
National Homeschool Honors Society access.
and FREEDOM TO EDUCATE YOUR OWN CHILD!!!
Ok. You ready to begin homeschooling?
Register with the application and submit fees.
THIS IS NOT A SCHOOL
This is an Option 3 homeschool association in SC which is requires to legally homeschool in SC.
Begin your homeschooling journey.
https://docs.google.com/forms/d/e/1FAIpQLScEq6m6dKe3AD_cePVBDzDMJmUrxiELPmAibNykJNo34CpaLw/viewform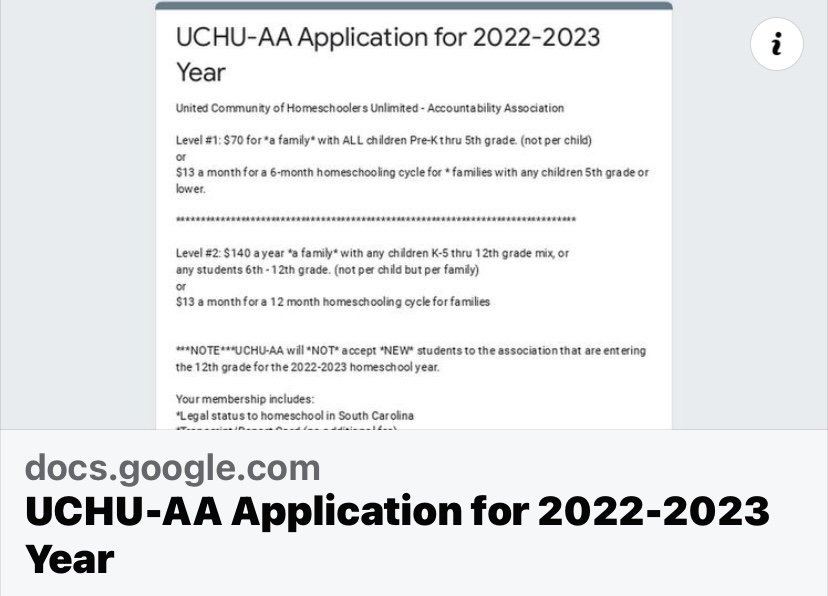 Schedule a phone chat with me from my virtual calendar as needed:
www.calendly.com/UCHUThirdOption/15min
Share this post as you never know who may just need to know this information.
Peace and many blessings,
Angela Fafali Nyarko,
United Community of Homeschoolers Unlimited owner/director
#Goal600 #600FamiliesWithUCHU #homeschooliscool #homeschooldays #homeschooling #homeeducation #homeschoolfreedom #uchu #unitedcommunityofhomeschoolersunlimted #homeschoolinginSC #homeschoollife #SChomeschooling #Option3 #Option3homeschooling #AngelaFafaliNyarko
Serving you and yours,
Angela Fafali Nyarko